It turns out that Korea didn't produce one native kaiju film in 1967, they produced two.
Ujugoe-in Wangmagwi
is an unreleased monster film made entirely in Korea, and released a few months before
Yonggary
. Unlike
Yonggary
,
Wangmagwi
was an entirely Korean production. It was believed lost until a copy was discovered in the last decade. It is still undergoing restoration.
Which means I can't watch it. There are a few descriptions of it, and a couple of pictures, but opinions differ. The most complete description of the creature comes from
Koreanfilm.com
, which makes it sound both different from the usual run of monster films, while retaining many familiar tropes.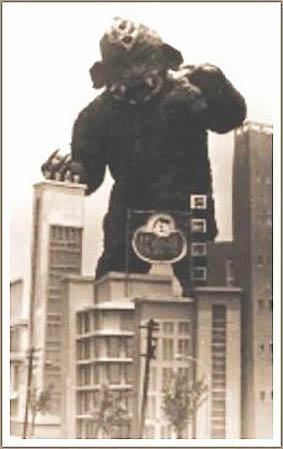 Aliens invade and create the giant monster Wangmagwi, which tromps through downtown Seoul. Ahn Hee, who is due to marry an air force pilot that day (shades of
Yonggary
) stays in town to wait for him, and it picked up by the monster (very
King Kong
and carried about. After Seoul is levelled, the monster moves to the countryside, where it can finally be confronted by the military. One very different piece introduced by the film, very different from other monster films, is a himeless boy nicknamed Squirrel. Cornered, Squirrel leaps onto Wangmagwi, climbs into his ear, and attacks the creautre with a knife. What effect this has on the monster, I don't know.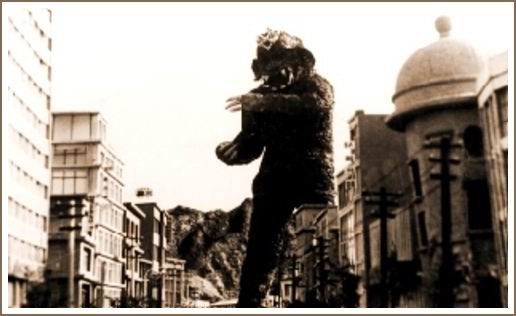 It also seems that Wangmagwi ow some design inspiration to
Creature from the Black Lagoon
. It's scaly, and spends a lot of time hauling a woman around.
Beyond that, I can only hope that the film gets restored and is released on DVD. I know that I'm not alone in this.
Your Boxing Day present, will be 1968's classic
Destroy All Monsters
. And that's going to be a load of fun.