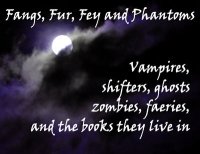 Woah. It has a graphic. I'm sort of climbing out of a bad patch, thanks to yesterday's non-productivity, doses of
Futurama
and
Rome
, and cracking
The Gone Away World
(thanks, Nick!). Nothing serious, but there's a few things in my life that are going to change. But this post has to do with the panel. I'll post about my life later.
It's a little nerve-wracking to know that the panel is coming up in less than a week and a half. Must do some brushing-up on
Dracula
(where is that quote? Is reading from the Unicorn edition a good idea or just bragging?) Chelsea Quinn Yarbro, Laurel K. Hamilton, Nancy Collins, Suzy McKee Charnas, a touch of Leonard Wolf, perhaps quote Frank Langella. Peg the dates of
Hotel Transylvania
and
Interview with a Vampire
. I think I'll need some notecards. And when did that "Demon Lover" ballad get written down?
But the real question remains; is there anything that humans
won't
have sex with?