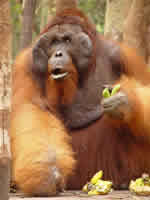 Mood: Lord of the Bananas
Despite my complaining about it, the writing group really liked the story that I messed up my April to write. While I am pleased, I also hope that it won't take that sort of manic obsessiveness to make a good story every time.
I have subsequently increased my day goal from 1,000 words to 1,500 words. The difference is rather surprising—it has taken me only three days to get past the half-way mark with the story, and I've really only got two more days' work to get the first draft done. That's pretty fast, considering that I've been writing a story a month for the past four months.
The down side is that I'm really going to annoy my writing group, since we meet once every other week.
I appear in Privateer Press's
No Quarter
#18. My brother decided to take some clever pictures at Templecon, and I was part of the execution.
On Saturday, I also won my first bout against the teacher of my fencing class. I've been trying to do this for nearly four years, so I'm pretty pleased.
And I've just promised to go to a roller derby on May 31
st
with the estimable
Dr. Paffenroth
. It's the first (encounter? game?) of the season, the Hudson Valley Horrors vs the Lehigh Valley Rollergirls. I have virtually no idea how rollerball is played, and the last sports event I went to was during high school, but this looks like it won't be a night of the same-old, same-old.