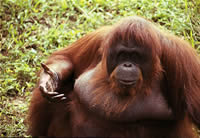 Mood: Needy
This is my rejection letter for "Tatterdemalion," from, Vince Liaguno at Dark Scribe Press for their gay horror themed anthology
Unspeakable Horror: From the Shadows of the Closet
. I had sent in my story "Sire," and to my surprise I received a request to revise the story and resubmit. The good people at Dark Scribe sent me two pages of revision suggestions; what they liked, what they thought was weak.
So I spent a lot of January hammering away at the story, revising the weak spots, and changing the ending.
And on February 26
th
, I received this rejection letter:
Dear Mr. Goodrich:

Thank you for submitting your short story for our consideration in the Unspeakable Horror: From the Shadows of the Closet anthology. We gave the revised version of "Tatterdemalion" a thorough read.

Although you successfully incorporated much of our feedback, the ending just doesn't work for us. You quite successfully craft an excellent psychological portrait of a closeted man at war (literally) with himself, but the supernatural ending seems tacked on and doesn't seem to connect with the story that preceded it.

Regrettably, we're going to release "Tatterdemalion" back to you from our consideration at this time with our best wishes that your story finds a suitable home.

Sincerely:

Vince A. Liaguno, Editor-in-Chief
Dark Scribe Magazine
www.DarkScribeMagazine.com
www.DarkScribePress.com
Well
that
stings a bit. It's a great letter, and many thanks to Vince for going the extra mile and being personal. There are a couple of submissions where I've essentially had to imply that I've been rejected, because nobody has bothered to get back to me.
I need to look at this and realize that I got a call-back where most people simply got a rejection. I was good enough to get a request to revise, but not quite good enough to get into the anthology. And I was not the subject of the "Tips of the month" that listed the common problems with submissions. No psycho trannies or man-hating lesbians in my story, and no one's unmentionables were mutilated.
But let's do this Heinlein's way,
by the numbers
:
For November:
* Total # of queries = 19
* Total # of greenlighted queries = 19
* Total # of actual new submissions = 18
* Total # of re-submissions from previous month(s) = 1
Disposition of submissions:
* Accepted = 3 (2 new/1 re-submission)
* Rejected = 10
* Held for second reading = 4
* Revisions requested from authors = 2
And in February:
* Accepted = 3
* Rejected = 15
* Held for second reading = 1
* Revisions requested from authors = 1
This was the first pro-pay (5 cents a word) anthology I've ever submitted to. Although it's cold comfort, I came close, and I have to remember that I didn't consider "Sire" to be a particularly good shot in the first place. I really got my hopes up when I was asked to revise, and although I made the piece stronger, it wasn't quite enough. While I'm not in the anthology, I do now have a story that is substantially better than it was in December. And even if it didn't make it into
Unspeakable Horror
, I think I've got a shot at placing it somewhere else.
Time to stop feeling sorry for myself and take a look at the markets again.