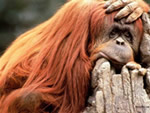 Mood: Not yet awake
Nine years ago, I
interviewed
San Francisco Bay Area dominatrix Mistress Selina Raven. It was an interesting experience, a little adventure into the world of kink that I didn't understand. That interview has become one of the most consistently-read articles on my website.
Well, Mistress Selina Raven was chosen by the
San Francisco Bay Guardian
as their
Best Dang Dominatrix
of 2007. That's pretty big: it's not like she's been awarded "Best Dominatrix in Pownal." There's a lot of kinky stuff in the Bay Area, and to be recognized for it indicates that she's really gotten somewhere in her profession. Her
website
(
Not safe for Work!
) is quite interesting, and her writing about what she does is very clear.
If you've consistently looked at dominance and submission in askance, I suggest a visit to her site. She lays out in pretty clear terms what she does and says a few words about the psychological underpinnings of it all.